Top 16 Pinterest Marketing Tips You Must Know to Promote Your Business
Pinterest Marketing Tips to Help You with Your Pinterest Strategy 
If you would have told me years ago that the platform I used for planning my perfect wedding and dream home would be the number one traffic source for my blog or e-commerce store I would have laughed out loud spitting my iced tea out in the process! 
Pinterest has risen to the top as one of the highest leading traffic sources for all social media platforms.
It would be a huge mistake to leave Pinterest out of your brand's marketing strategy!
Marketing with Pinterest
Pinterest has over 200 million monthly active users. That is such a LARGE number of people that could be a great targeted audience for your social media strategy. But you need some information on the best way to go about how to target the audience, when to, and why. 
Keep reading below to learn some more Pinterest marketing tidbits that could help build the perfect social media strategy this upcoming holiday season for your shop or blog. 
1. Pinterest Audience are Millennials
1 out of 2 U.S. millennials use Pinterest every month!
YUP!
More than any other age group. Even us late night moms scrolling for the perfect anti-aging under eye cream because we are creeping up there in age QUICKLY!
Most generally think that Pinterest is mostly for busy soccer moms searching for quick dinners and the perfect polo shirt, but they are wrong. The second most active age group is women 35-49. 


2. Women Dominate - It's True! 
Pinterest continues to be a mostly female platform.
Nearly half (45 percent) of all women online are Pinterest users—compared to only 17 percent of online men.
Men are Pinterest's fastest-growing demographic, Pinterest reported in November, citing internal data that pointed to one-third of all sign-ups now coming from men, and closer to a 50/50 split between genders in signups from outside the U.S.
Now, Pinterest reveals that its U.S. male user base grew 73 percent year-over-year in 2014.
Men on Pinterest are favoring searches related to categories like apparel, technology, travel, gardening, recipes, gadgets, design, luxury cars, tattoos, and camping, says the company.
With the change, Pinterest is trying to maximize its usefulness to its male users. The company tells TechCrunch that the change is meant to basically serve as a filter that lets you quickly see the most relevant results so you "don't need to dig through irrelevant Pins when searching for things like shoes, sunglasses, workouts, hair, and tattoos," for example (Pinterest Goes After The Male Demographic With Debut Of New Search Filters)
3. Pinterest is World Wide
Most of the major social networks extend far beyond American borders, and Pinterest is no exception.
More than 50 percent of all Pinterest users and 75 percent of new signups come from outside the U.S. 
So your social media strategy could easily expand worldwide with one platform. #bonus
Besides the United States, the top three desktop users by country are Brazil, India, and Russia.
4.Pinterest Users are Well Educated
Thirty-four percent of Pinterest users have at least some college education, while another 34 percent have more than a college education. 
5. Pinterest Users Have an Above-Average Income
Not surprisingly, being well educated also means that Pinterest users have money. Thirty-five percent have an income of over $75,000, a figure that rises to 50 percent when applied exclusively to millennials. The next largest income demographic is $30,000 to $49,000 (at 32 percent of users).
These figures support the statistic that Pinterest users have a nine percent higher average income than non-users, according to Ahalogy.
Stats to Use for Your Social Media Strategy 
How do people/consumers use Pinterest?
Here are some tips you need to know to make sure your Pinterest strategy aligns with the way your customers are already using this social media platform. 
Use these to plan out your social media strategy....
6. Pinners Pin A LOT!
Every day, 2 million people post pins, resulting in a total of more than 100 billion pins currently living on Pinterest! WHOAAAA!
That's a lot of pins. Which means that's a lot of potential. The more pins you have the more likely you are to get more eyes on those pins. 
To put that in perspective, the Mall of America, the largest mall in the U.S., only gets 100,000 shoppers per day.
7. Pinterest Users are Mobile - On the Go!
Just like all other platforms, pinners use Pinterest on their phones.
With over 500 million app installs, 85 percent of all Pinterest searches happen on mobile.
That's a 45 percent increase in mobile searches from 2016 to 2017.
So keep in mind when creating your pin images your mobile quality! 
8. Pinners Use the Platform to Plan
86 percent of millennials say they use Pinterest to "plan life moments, big and small."
Plus, a Millward Brown study found that 47 percent of Pinners were likely to experience a major life event (like getting married, having a baby, or buying a car) in the next six months, and were disproportionately using Pinterest to plan for these events.
If your e-commerce store is based in one of those markets RUN don't walk to Pinterest NOW and start implementing as mush as you can! 
9. They Use it for Search
Pinterest has always been a discovery-focused platform (more than 2 billion searches happen every month), but the launch of their visual search tool, Lens, in 2015 was a game changer.
On average, 39 percent of female Pinners choose Pinterest over other traditional search engines like Google. 
10. They Pin Later in the Day 
Pinning activity takes off around noon and spikes dramatically in the evening. 11:00 pm is the most active hour of the day, with just over 6 percent of total pins being pinned at that time.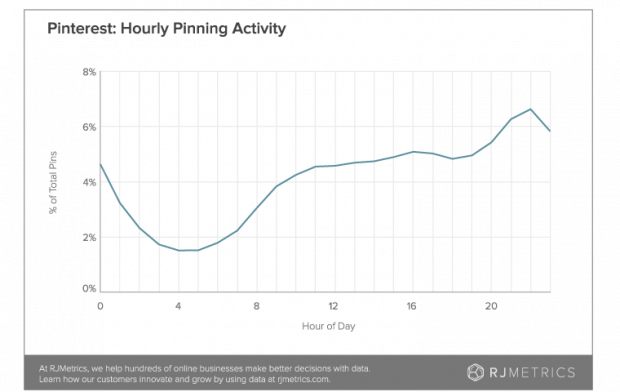 11. Pinners Are Active for Over a Half Hour!
Active Pinners spend an average of 34 minutes per visit on the site. That's longer than sessions on other social platforms like Facebook (33 minutes), Twitter (24 minutes), and Instagram (24 minutes).
12. Pins LAST FOREVER! 
One of the most valuable things about Pinterest is the fact that pins last forever. They are not short-lived like Instagram and Facebook. Once pinned they will constantly bring you traffic for years to come. 
The average pin is repinned 11 times.
Eighty percent of all pins are repins and it takes a pin 3.5 months to get 50 percent of its engagement.
No Brainer for Using Pinterest For Your Business
13. Everyone Else is Doing It 
One million businesses are already using Pinterest to reach their customers. Here are the most important Pinterest stats for business to help you create your own strategy.
The majority of Pins come from businesses.
Two thirds of all pins represent brands and products. And people are happy about that. Seventy-three percent of Pinners say that content from brands makes Pinterest more useful. 
14. People use Pinterest to Plan Purchases
Given the stat above, it makes sense that 93 percent of Pinners use Pinterest to plan purchases. The same study found that 96 percent use it to research and gather information, while 87 percent report that Pinterest has helped them decide what to purchase.
And to discover new brands
Sixty-three percent of millennials say that Pinterest helps them discover new brands or products to buy.
15. Pinners, SHOP!
According to the following stats, there's no doubt that Pinterest is a major driver of on and offline sales:
16. And they SPEND THEIR MONEY!
The average order value from Pinterest referral traffic is $58.95, compared to $55.00 for Facebook. The top shopping categories that lead to purchases are fashion, home décor, and beauty.
Pinterest Drives Referral Traffic**
Around five percent of all website referral traffic comes from Pinterest.
That's the second most significant portion of web referral traffic out of any social network (Facebook drives 25 percent and the other social networks are below one. percent).
When it comes to shopping websites specifically, Pinterest actually drives 33 percent more referral traffic than Facebook.
Pinterest Advertising Statistics
Pinners are open to ads because they fit so well into the feed when they are scrolling through and browsing, providing useful information about where and how to buy products they care about and are looking to purchase.  
Promoted Pins Drive Sales
According to Pinterest, 61 percent of Pinners said they've discovered new brands or products from Promoted Pins, and half of them made a purchase after seeing one. Pinterest also says that Promoted Pins drive five times more in-store sales.
…and engagement too!
For every 100 Promoted Pin impressions, brands see 30 free views thanks to repinning.
"That's a really high rate of earned media," says Pinterest's president, Tim Kendall.
This supports the fact that, in a recent Pinterest survey, 73 percent of respondents said they found branded content on the platform to be "useful." and engaging. 
And so much more! 
Dive into Pinterest as a user and see for your self what is the latest trends on the platform. Get in the mind of a pinner by being an active inner yourself. 
Think like a pinner. 
Repin just like one.
Engage, purchase, comment, and like on pins. 
See exactly how your audience is acting on the platform so you know exactly how to target your avatar and audience. It truly is the best way to reach your audience, is be being one of them. 
Pinterest Management Services 
Does alll this seem too overwhelming? Have enough on your plate right now and just don't want to juggle anything else?! 
Let me help you and take the stress away of all the ins and outs of Pinterest. I have learned all there is to know about Pinterest and staying current with all the best practices and current trends.
Let me build your traffic and brand for you while you concentrate on things you rather being doing :) 
Any questions?! Comment below I will be happy to help! 
Michelle 
PS. 
Be sure to check out my Pinterest graphic packages here. 
ANDDDDD please take a moment to hit the PIN IT button too, please :)